About
---
With a BA in Criminology from Université de Montréal, and after working in this field for several years, Melissa Mensing turned to real estate and began her career as a broker by joining forces with the prestigious RE/MAX agency in 2002. Real estate allows her to combine both interest for business and the human side. Over the years, she has built a solid reputation.

Her ability to highlight the properties entrusted to her, her experience with international clients combined with the effectiveness of her strategic positioning on the local and international market makes Melissa Mensing a results-oriented broker.

Her rigor, her negotiation skills, her frankness, her flawless customer service and her energy have become her trademark. Some brokers rely on volume, but sacrifice the service. By accepting only a few listings simultaneously, without counting her active buyers, Melissa Mensing's approach remains personalized, and above all effective.

Through the years, she has accumulated several awards, including the « RE/MAX Hall of Fame Award » in 2009. Melissa is always on the lookout for new trends and stays informed on new rules governing the market. Whether to find that rare pearl or to entrust her with the sale of your property, trust her, you will enjoy an outstanding support.
Properties
---

Loading
Testimonials
---
« Thank you again for everything and I am very grateful. You are an extraordinary, professional and, above all, very dedicated agent. »
« After spending twelve beautiful years in my condo in Little Italy, the sale of my property represented an emotional as well as a logistical challenge. In a context of multiple offers and outbids, where you need strong nerves and a lucidity at all times, Melissa has been a great ally. Her listening, her deep understanding of the needs of her clients, her knowledge of the market and all the small details of the sale of a property, and especially her wise advice, have assured me a peace of mind through this experience sometimes dizzying and allowed me to obtain a sale price beyond my expectations. Her accompaniment has even extended beyond the sale. I highly recommend her! »
« What would we have done without you Melissa? Nobody should do without your expertise, your sharp sixth sense, your patience, your passion and your eternal good humor. Your great passion for real estate and your infinite rigor will have transformed each of your interventions as part of our purchase into a small miracle to our advantage ... and we will be eternally grateful. There will now be a little bit of you in every moment of happiness in the heart of Rosemont. »
« After trying for a while to sell my duplex by myself using various modern electronic tools, I realized that the task was more difficult than it seemed at first sight. I was particularly disappointed with the lack of visibility that it provided. When Melissa contacted me, I was a little discouraged and the time began to hurry. She seemed friendly, quick-witted, well organized and well prepared to reassure the most skeptical customers. I did not regret having trusted her since my duplex sold 101.5% of the asking price, even before the sign FOR SALE was on the ground! Mélissa is a bold and frank businesswoman who puts all her talent and knowledge at the service of her clients. I do not hesitate to recommend her, no matter how complex the transaction. "
« I asked Melissa to find me an income property that corresponded to specific criteria. Not only did she accept the challenge, but she raised it hands down in only three weeks! She accompanied me during a dozen visits, before we came across the pearl. And, during the negotiation, she knew how to represent MY interests. It was the first in a long series of real estate transactions and, for each of them, I hope to count on Melissa to support me. »
« I highly recommend Melissa Mensing. When I wanted to sell my condo, I wanted to meet a few agents before giving my listing. Melissa is the first person I met and I did not have to go further. She arrived so well prepared, with a complete record of comparable condos in our area, the market analysis, her plan of action, that I knew I had found my partner. All my questions have been answered with clarity . The trust settled immediately and Melissa knew how to keep it during our association.She is dedicated to her customers, always available and efficient, both for the negotiation and to regulate all the contractual aspects of the procedures. This work paid off because, in less than 8 days, our condo in Les Jardins Windsor sold, and at a great price, in a market where there was plenty of condos for sale. »
« Dear Melissa! Your genius, your competence, your organization and your listening related to my heart and my intuition have made this transaction, the sale of my duplex in Côte-des-Neiges, a thing beyond our expectations, and that in it only 28 days. Congratulations Melissa! I met a girl who will go far thanks to all her talents both in business and on the human level. I wish you a bright future and thank you for accompanying me during this time of mourning, leaving the home where I lived for 35 years ... »
« I am very lucky that an acquaintance referred me Ms. Mensing. From the first meeting, I immediately realized that I could trust her. Melissa is a very professional, competent, authentic, honest, dedicated, available person, with a great personality and, moreover, an outstanding negotiator. I never thought I would get such a good price, higher than the asking price, due to multiple offers. Really, it was beyond my expectations. I am very grateful to her. I highly recommend her, regardless of the type of property. She knows the market very well. Again, a big, very big thank you, Melissa. »
« We had the chance to work with Melissa for the purchase of our new home. We were transferred from Alberta to Quebec and only had 7 days to find a home ... What a challenge! We were discouraged at times, but not Melissa! She told us to trust her and that she would find us our home. She took up this challenge hands down. Throughout the process, Mélissa has been very attentive to our needs, very professional and above all very available to us. Thanks again for the excellent service.
« Everything was perfect! We are very pleased with your professionalism and diligence in fulfilling the mandate to sell our condo downtown in front of Bell Center. »
« Melissa Mensing gets the job done quickly and easily! »
« The outcome of my flat hunting in Old Montreal was that I found a place which I really wanted with the exact conditions that I had in mind. Melissa was quick to realize my preferences and she eventually led me to find a great new home and a second one a year later. I'm very grateful for her professional, helpful and honest attitude throughout the whole process. »
« I was stuck in a difficult situation: My husband and I were divorcing, and neither of us could afford our three-bedroom condo alone in downtown Montreal. We had to sell. The condo spent several months on the market with two different agents, neither of whom was able to find us a buyer. Then we hired Melissa Mensing, and she sold our condo in two weeks! I'm very grateful for her help and I recommend her to anyone looking for effective results. »
« I met Mrs. Mensing when she wanted to fulfill her clients dream of having a condo in the building where I lived. She came knocking at my door and a few weeks later she was selling my condo. I loved her work and her attention to my needs and those of the new buyers. As a result, I changed broker and since then I have made other transactions with Melissa Mensing and I am very satisfied. »
« We discovered Mélissa's energy and dynamism during our visit to a house for which she was the broker. Our offer on this house, while competing with another, had to be made without the condition of selling ours. It is somewhat stressful not knowing whether or not we will sell our house on time. Subsequently, we decided to give Melissa the sales contract of our house. Her fair assessment attracted many visits in a very short time. Finally, we got 98% of the asking price in just 3 weeks! Satisfied customers attract others, which is why we recommend without hesitation the services of Melissa Mensing for any real estate transaction. »
« It was a pleasure to work with Melissa from our first meeting until the offer was accepted. The experience was sincerely enjoyable, given the professionalism and personality of Mélissa. Confident, organized, calm and in a good mood ... that's saying a lot about her. I recommend her without hesitation because, no matter the challenges surrounding the sale 'a property, she sees only positive! »
« Mélissa is a person with unparalleled professionalism. Very devoted, she knows her field thoroughly and she knows how to find all the answers to our questions. Patience, integrity and honesty are some of her qualities. I recommend this real estate broker with eyes closed. Thank you Mélissa for your excellent work! »
« We were extremely pleased with the service we received from Melissa Mensing. She knows the local market in Jardins Windsor downtown Montreal, is a shrewd negotiator, and always made herself available to answer our questions and address our concerns. Whether you are looking to buy or sell, we wholeheartedly recommend that you give her a call. »
« You are passionate about sales and customer service. You have well understood our sales objectives and have deployed a successful marketing plan that has delivered the expected results. Your energy level and your commitment are remarkable. You do not give up and you reach your goals. It was very nice to work with you. Thanks again. »
En tant que premiers acheteurs, l'achat d'une propriété sur l'île de Montréal venait avec son lot de défis et questionnements, et nous semblait parfois même inatteignable, surtout dans le contexte d'un marché qui est très dynamique et concurrentiel. Mélissa nous a accompagné dans ce beau projet du début à la fin toujours en nous offrant un service impeccable (à l'écoute de nos besoins réels, très accessible et super attentionnée). Nous avons rapidement établi une relation de confiance et n'avons jamais ressenti aucune pression tout au long du processus d'achat, lequel s'est d'ailleurs terminé avec un achat sur duProprio. Le moment venu, Mélissa a réagi très vite pour sortir une offre d'achat en nous encadrant à 100% et elle s'est occupée des négociations avec les vendeurs, lesquelles ont été bénéfiques pour nous. Nous sommes vraiment très reconnaissants de son temps et de tout l'aide qu'elle a mis sur notre dossier. Elle nous a permis de réaliser un tout nouveau projet que nous chérissions depuis un moment et nous ne pouvons être plus heureux. Merci Mélissa!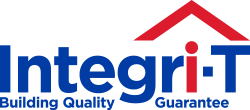 The key to solving latent (hidden) defects.
The Integri-T plan is a guarantee offered to buyers and sellers who want peace of mind in the event of latent defects. This unique coverage exclusive to RE/MAX provides financial protection to buyers and sellers in case of a claim.
Learn more